.
NIGHT STREET PHOTOGRAPHY – SOUTHBANK
.

On this course the group will capture the evening atmosphere of London's Southbank as we travel along the river taking in the romantic strollers, the theatre goers and the hurrying commuters that populate this exciting area. The setting on one side is the rapidly flowing river Thames that slices London in half, and on the other side are some of the most brutal buildings in the capital – a fine mixture that forms a varied collection of backgrounds for the evenings work.

Street lights, dramatic floodlights, theatre atriums, bar fronts and street stalls provide all the light needed to create interesting portraits of passers-by and to capture the laid-back feeling of this relaxing stretch of the river. We'll encounter giant glass panels on the sides of buildings, as well as cold stone walls, concrete blocks, cobbles and an avenue of over-hanging trees. Further along we'll find bridges and open plazas that create a very different atmosphere and afford some interesting shooting positions. The course will concentrate on helping you to:


Use light effectively to create three-dimensional images
Utilise dramatic backgrounds effectively
Spot patterns and shapes that make eye-catching compositions
Make use of the colours of the scene to demonstrate atmosphere
React quickly to ever-changing environments
The Southbank at night is a great place to be, and with Damien's help you'll find it a rich hunting ground for stunning images of humanity at work, rest and play. The sheer number of people in this location makes blending in easy, and gives photographers multiple chances to get their shots right.
The course will begin with a coffee and a chat so the members of the group can get to know each other and so Damien can discover what you each hope to get out of the class. You'll then head out for a series of lessons in specific locations so you can grasp new skills under Damien's watchful and attentive eye. Although you will have the freedom to photograph what you like, this will be a structured class of learning, not just a walk around a famous area of London. Each class ends with a friendly and constructive critique of the pictures taken, so we can share our experiences and learn from each other's mistakes and successes. There will be a break for a snack-type dinner (included) about half way through the evening.
The class will finish at 10pm, but if you need to leave before that time that can easily be arranged. The class will be suitable for photographers of all levels of experience, from complete beginner upwards. It will be a small group, and everyone will get plenty of help and attention.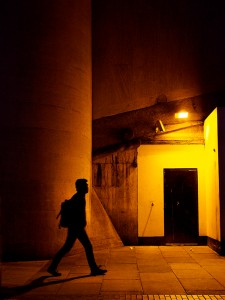 Your course will begin with coffee and a chat close to the Tate Modern gallery.

The closest tube stations are Southwark, London Bridge, Blackfriars and Waterloo.

At the end of the day we will be in much the same area, and Damien will be able to direct you to the closest station from the final location.

Exact start and end locations, as well as timings, will be communicated to all students by email ahead of the day to help with route planning.
Frequently Asked Questions

What camera will I need?

Almost any camera will be suitable for this course. Small light cameras are the most suitable for street photography, but any DSLR will also be absolutely fine. A digital camera will allow you to see the results of what you are learning and to assess your on-going success, but it is quite possible to work with film if that is your preference.

What lenses will I need?

Focal lengths between 24mm and 90mm (full frame equivalent) are most suitable for street photography. You won't need long lenses or extreme wide angles, unless they are part of your photographic style. Try not to bring too many. Damien uses a standard lens most often, but also likes a 24mm and an 85mm, and prefers fixed focal length lenses for their faster maximum apertures. Zooms though, will be absolutely fine. If you have any specific questions about kit please feel free to get in touch.

Will I need a flash or a tripod?

No, and no.

What about the weather?

Street photographers aren't afraid of a bit of bad weather so unless it pours with rain or it gets too cold we will stay out shooting. Should things get too bad we'll find somewhere undercover or inside to carry on the day, but please do check the weather forecast before the day so that you can dress appropriately.

Footwear

These courses aren't long hiking days, and in fact we often don't travel very far at all, but you will be on your feet for a lot of the time so please wear shoes that are comfortable. We stop for breaks so you won't be on your feet all day, but you will need to be comfortable so you can concentrate.

Diet

If you have any special dietary requirements please let Damien know at the time of booking so we can make sure you are catered for.

What is included?

Street courses generally include tea/coffee at the beginning and the end of the day, and a sandwich-style lunch.
Students are responsible for their own equipment and for ensuring they have appropriate insurance.


If you have any other questions about the day, or any other courses I offer, please feel free to email me here.
Pricing

£180

All Evening Hands-on Workshop
Suitable for Photographers of all Levels
Critique & Summary of Evening
Supper Included
Dates available for this course
Thursday 19th March 2020 4pm-10pm