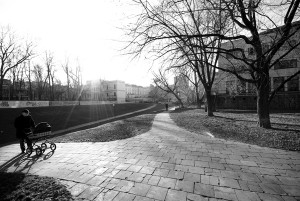 They say you should never shoot towards the sun, but I have never really understood why.It's true that when you take pictures with the camera facing the sun you get flare – reflections within the lens that reduce contrast – but it only looks the same as the flare we get in our eyes. In that way what you see in the picture is a realistic representation of what we see in real life.
In this scene I loved the way the sun was reflecting off the paving, and the contrast between the lightness of the stones and the darker grass and trees. The sweep and shape of the path's route creates a dynamic feature that really catches the eye, while the line of the trees – on both sides of the shot – lead us from the foreground right out to the distance. The figure walking towards the camera down the central path gives another point of focus in the middle of the shot. The timing was perfect, and is completely down to luck.
I'd lined up the shot and tried a few variations, which I was half pleased with, but felt there was something missing. Then I spotted this old boy coming along pushing a pram and prayed he'd walk into exactly the right place. Strolling slowly he gave me plenty of chances to try out different compositions, but this was the shot that worked best.
I love the long shadows and that special atmosphere that only winter light delivers. There is some flare in the picture, but it adds a sense of reality. What I like most is that the picture looks just as I remember seeing the scene. Using a wide angle lens allowed me to capture a wide sweep of the scene, and keeping the camera as level and straight as I could means viewers can concentrate on the subject rather thedistractions of leaning buildings and a sloping horizon.
I shot in colour, and converted the picture to black and white via channel mixer using only the red channel, and then adjusted the contrast a little. I knew the light reflecting off the paving would fool the camera's light meter, so I took a spot reading from the grass on the right hand side of the scene.
Pentax K10D, Sigma 10-17mm at the 10mm end. 1/60sec @ f/8, ISO 100.


To see more of my pictures
visit my photo galleries site
at www.damiendemolder.com
Follow Damien on Twitter and on Facebook
Book a place on Damien's street photography classes, full day or evening/night