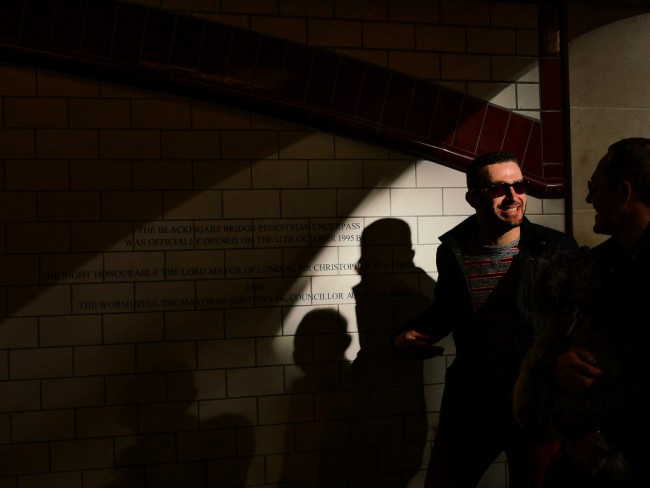 Excitement in the spotlight
Just as there is gold at the end of a rainbow, so a beam of light in a shady zone will lead us to riches. Where sun shines in the darkness we have a spotlight, and spotlights are perfect for picking out a subject for us to see, to concentrate on and to photograph.
This scene is just the opening of a tunnel on a sunny day, and with a relatively high angled sun and the assistance of a reflective glass building, we had this double spotlight effect that created multiple shadows from each person that passed by. I had been concentrating on those shadows, and looking for people making interesting shapes to cast good shadows on the wall in front of themselves. Most people were lit from the side, so there was some light on their face but more on the side of their head. The effect on the wall was great, but the light on the people was much less interesting.
I was just coming to the conclusion that while there was some potential in the scene I was only getting half interesting pictures, and no matter how dramatic the shapes were I didn't know what was needed to create a spark of excitement beyond the passive shadow experience.
And then this animated chap came along. Obviously excited about appearing in a picture that would end up on my website and in endless street photography talks, he went to town to engage with his friend in a dramatic manner and turned to face him to ensure whatever he was saying was being registered and sinking in.
Of course, as he turned his face towards his friend he also turned it into the light, and with that enthusiastic expression and that dynamic body position it was going to make a good shot. We have no idea what he is saying or why he looks like that, but we can all appreciate the energy he is putting in to getting his point across.
His friend is also nicely semi-silhouetted against the light grey background and he shows us enough that we can see his reaction and how much he is enjoying his friend's antics. We need that element of communication and connection so that we can join in the fun and be a part of what is going on.
Had I given up when things weren't quite coming together I wouldn't have got this shot. I kept the camera up, however, and was still ready to shoot as I pondered what was needed – and as if by magic what was needed appeared before my eyes. Fortunately, I was ready and waiting to capture what luck was serving up at that moment.
Join me for a street photography workshop and learn how to improve your images.