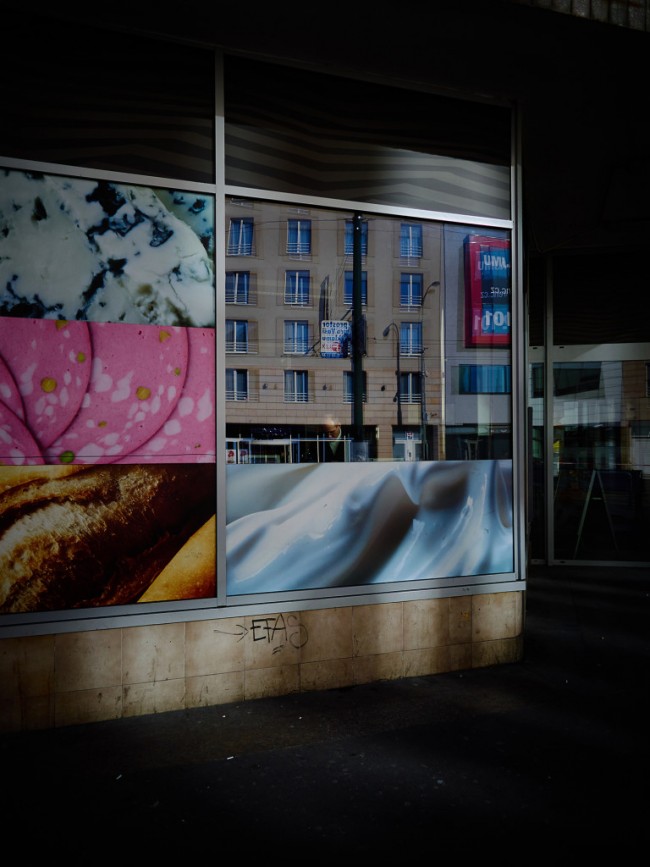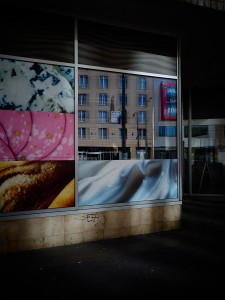 Café, Prague
In my head street photography is architecture with people in it, so I am constantly on the lookout for ways to show how humans and buildings come together to create the atmosphere of a place. Every town and city has different zones, where a different style of building exists and where different atmospheres prevail. None is more or less valid than the other, and while some are more obviously attractive to the eye than others we can choose to remember that we don't need conventional beauty to make in interesting picture.
This picture was shot in one of the less touristy areas of Prague, in the Czech Republic. If you type 'Prague' into Google images this part of town in unlikely to pop up – it's a little shopping area near a train station on a junction of two busy roads. It isn't one of the famous bridges, or in the quaint old town.
What caught my eye here was the vibrant graphics in the window of the café, and the rigid lines and angles that make up the framework of the window. The reflection of the building across the road fits nicely into the theme of collected rectangles – and the light streaking across the pavement adds texture that somehow works well with the curved shades of the bread and cream illustrations in the window.
These elements would all be fine on their own, as observational architectural details, but the man in the café brings humanity into the scene and brings the place to life. He was kind enough to sit just in the right place, so that the sun caught his nicely reflective head, making him just the right brightness so he stands out from the scene. He is dramatically round in a frame full of squares, which makes him drawn our eye by breaking the pattern, but the tonal and chromatic contrast helps to lift him from the dark background so we can see him through the reflections.
I like this sort of surprise – where we look at a big scene but are drawn by visual coincidences to one small part of the frame. It is the job of the photographer to say 'look what I saw' and to ensure that part is what the viewer sees too. I hope that in this case you experience the scene the same way I did when I came across it.
Olympus OM-D E-M1 with 12mm f/2 lens
If you would like to be able to shoot pictures like this check out my street photography classes schedule.
You can also follow me on Facebook or on Twitter:
http://www.facebook.com/demolder
https://twitter.com/damiendemolder