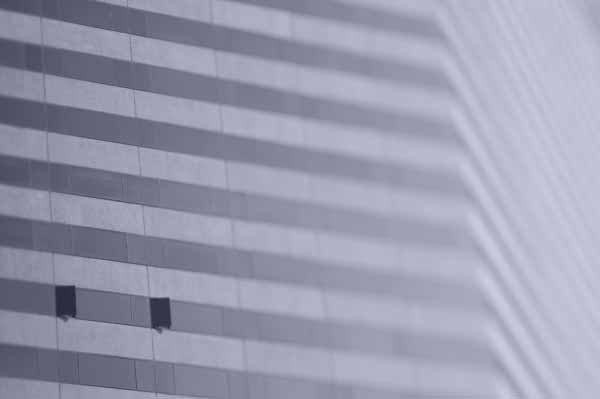 Patterns, and pictures, are everywhere, and of course we all know we need to keep an eye open for them in the most unexpected places. It seems though that the most unexpected place of all for most photographers is 'up'. Looking up is something most of us fail to do, as we are just not programmed that way. With few airborne predators I suppose we don't feel we need to.
Although I do now make an effort to look in the directions others are not, I saw this shot quite by chance. I was waiting for a bus and had the time to stare
At first glance, the face of this hotel looked just like all the other glass mirrored buildings in the district – which by their numbers had already become boring subjects by the second day of the visit. The difference here is that the windows actually opened, and thus they destroy the neat graphic designs of the building. The architect would probably not approve, but in fact the at-odds angles have made an interesting picture where one did not exist before.
The trick, beyond spotting the potential in the first place, is to represent what you are seeing in your photograph, and to get across what it was that made you look. In this case the attention-grabbing element is the break in the pattern. So, to begin with, you have to show the pattern. Here the pattern occupies the largest area of the image, so we can see what is the norm. The windows that are open are only small, but simply by breaking the flow of the pattern they stand out, and draw the eye.
To help emphasise how much the windows stood out I used a wide aperture for a shallow depth of field, as well as a tilt and shift lens which enabled me to alter the plane of focus completely. This meant that it was easy to de-focus the rest of the building, while keeping just the open window area sharp. You could achieve the same in software.
I shot the picture on a Nikon D40, and used the in-camera cyan-toning facility in the post capture menu. I find this a bit strong, even using the mildest setting, so I reduced the colour saturation in software.

Shot with Nikon D40, with Nikkor PC Micro 85mm f/2.8. 1/3200sec @ f/2.8 and ISO 200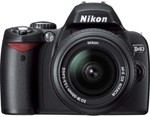 To see more of my pictures
visit my photo galleries site
at www.damiendemolder.com