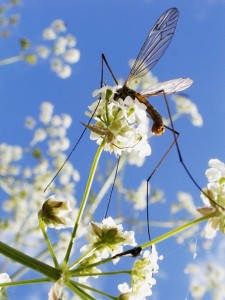 This is a fairly simple idea for making macro or close-up shots more interesting and more unusual. I know I have spent ages in the past trying to get close to bugs and insects to show just how 'macro' I can get. In the end though I often created pictures that were only interesting from the point of view of being close to a small object – rather than pictures that are visually stimulating in their own right.
For this shot I didn't get as close as I could, but concentrated instead on getting a nice picture. Using this low angle I was able to create a brilliant blue background using the sky. It also makes the shot striking in the first instance because we are not used to seeing Daddy Long Legs from this angle. Looking up at the subject in this way the viewer gets the impression that the insect is a giant – its a bit War of the Worlds.
On this occasion I set the camera to aperture priority mode and was able to shoot away without needing any exposure compensation. If the sky had been any brighter or darker I may well have needed to adjust the exposure by half a stop or so. Shooting with ISO 400 might not be best for ultimate picture quality, but it allowed me to combine a small aperture, for extensive depth of field, with the short shutter speed I needed to combat the effect of the wind blowing the flowers around.
On balance it's better to accept some image noise to create a sharp image. Had I shot at ISO 100, for example, I would have been forced to use a shutter speed of 1/125sec – which would not have been short enough to freeze the movement of the subject. The shot didn't need any post capture work, other than to add the touch of Unsharp Mask that all digital files require.
The camera I used was a compact with a flip-out articulated screen so it was easy for me to shot from this low angle and still see what I was going to get. I have shot the same sort of thing with other models as well though, without the flexibility of this type of screen – you just have to rely on guess-work and shoot a few more pictures to get the result you are looking for.
Shot with an Olympus Camedia C7070WZ – exposure 1/500sec at f/11. ISO 400 with the zoom set to the equivalent of 55mm.

If you use a DSLR, or a film SLR, and don't have a flip-out vari-angle screen like the C7070WZ has you could use an angle finder like the one shown here. This makes it easier to see through the lens when in awkward positions. Many camera manufacturers have their own units, but this one, sold through Kauser International, is designed to fit many different cameras via adapters.


To see more of my pictures
visit my photo galleries site
at www.damiendemolder.com