Theatre goers mix with evening diners, with tourists, strollers and street performers in this bustling heart of London's nightlife. Posters advertising the latest shows plaster the walls beneath bare bulbs that light the hats and faces of passers-by, while the warm glow from café fronts spills yellow and orange, flashing reds and blues, on the pavements. Covent Garden is the perfect place to observe life after dark, and to take in the atmosphere of the lively streets as people watch performers, drink in bars and chat on corners.

Our evening will be spent using a variety of backdrops, from the pillars of a main square to the decorated walls and the grand frontage of the ancient St Paul's church at the western end of the market. We'll peel our eyes and spot the interest, anticipate the moments and capture the magic and the atmosphere of the place as we go. These are some of the things you should expect to learn:


An understanding of different sources of light that we normally don't notice
Pre-visualising an image and waiting for it to happen
Working exposure to capture drama and atmosphere
Using white balance to create an emotional reaction
Making dynamic composition by altering your position
Covent Garden is an exciting location and with Damien's guidance you are sure to come back with a memory card filled with creativity. This is an instructional course, and the group will work together to spot, understand and realise the potential in the scenes it will be faced with, and Damien will help all students to achieve their best.
The course will begin with a coffee and a chat so the members of the group can get to know each other and so Damien can discover what you each hope to get out of the class. You'll then head out for a series of lessons in specific locations so you can grasp new skills under Damien's watchful and attentive eye. Although you will have the freedom to photograph what you like, this will be a structured class of learning, not just a walk around a famous area of London. Each class ends with a friendly and constructive critique of the pictures taken, so we can share our experiences and learn from each other's mistakes and successes. There will be a break for a snack-type dinner (included) about half way through the evening.
The class will finish at 10pm, but if you need to leave before that time that can easily be arranged. The class will be suitable for photographers of all levels of experience, from complete beginner upwards. It will be a small group, and everyone will get plenty of help and attention.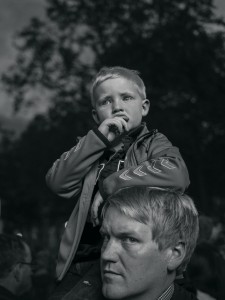 Our shoot begins close to the main area of Covent Garden market, so the nearest station is Covent Garden. Other stations close by include Leicester Square and Charing Cross.

At the end of the day we will be in much the same area, and Damien will be able to direct you to the closest station from the final location.

Exact start and end locations, as well as timings, will be communicated to all students by email ahead of the day to help with route planning.
Frequently Asked Questions

What camera will I need?

Almost any camera will be suitable for this course. Small light cameras are the most suitable for street photography, but any DSLR will also be absolutely fine. A digital camera will allow you to see the results of what you are learning and to assess your on-going success, but it is quite possible to work with film if that is your preference.

What lenses will I need?

Focal lengths between 24mm and 90mm (full frame equivalent) are most suitable for street photography. You won't need long lenses or extreme wide angles, unless they are part of your photographic style. Try not to bring too many. Damien uses a standard lens most often, but also likes a 24mm and an 85mm, and prefers fixed focal length lenses for their faster maximum apertures. Zooms though, will be absolutely fine. If you have any specific questions about kit please feel free to get in touch.

Will I need a flash or a tripod?

No, and no.

What about the weather?

Street photographers aren't afraid of a bit of bad weather so unless it pours with rain or it gets too cold we will stay out shooting. Should things get too bad we'll find somewhere undercover or inside to carry on the day, but please do check the weather forecast before the day so that you can dress appropriately.

Footwear

These courses aren't long hiking days, and in fact we often don't travel very far at all, but you will be on your feet for a lot of the time so please wear shoes that are comfortable. We stop for breaks so you won't be on your feet all day, but you will need to be comfortable so you can concentrate.

Diet

If you have any special dietary requirements please let Damien know at the time of booking so we can make sure you are catered for.

What is included?

Street courses generally include tea/coffee at the beginning and the end of the day, and a sandwich-style lunch.
Students are responsible for their own equipment and for ensuring they have appropriate insurance.


If you have any other questions about the day, or any other courses I offer, please feel free to email me here.
Pricing

£180

All Evening Hands-on Workshop
Suitable for Photographers of all Levels
Critique & Summary of Evening
Dinner Included
Dates available for this course
No dates currently available