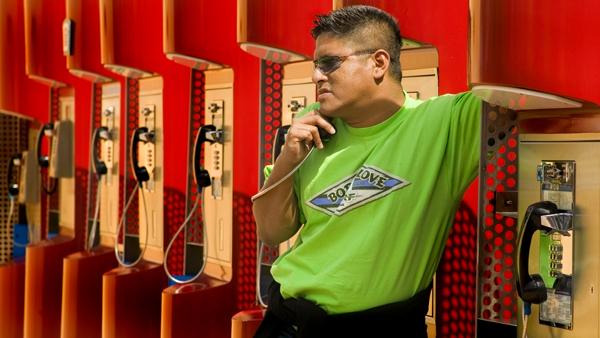 It's often the case that I 'see' a picture, or at least a potential picture, in a split second, but it then takes me more than a few seconds to work out exactly just how the picture should be composed to be shot. Although my brain was able to identify almost before I realised it that there is a picture waiting to be captured right there in front of me, actually working out what it is in the scene that is making my alarm systems ring.
When I spotted this chap making a call from a bank of phones in Orlando I was able to identify straight away that it was the way the green colour of his t-shirt contrasted with the red of the phone booths that caught my eye. The line of the metal-fronted phone boxes also made a striking connection with me – not to mention his haircut, sun glasses and square-set features.
My subject was so engrossed in his conversation that he wasn't noticing me at all, so unusually in this kind of situation I was free for twenty seconds or so to shoot away trying a few different compositions and crops.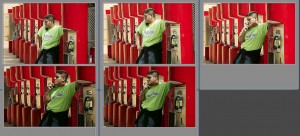 At first I was simply too far away, and the greater distance between me and the subject compressed the perspective in a way that couldn't show the front of the phones very well . I was also at too acute an angle. I wondered forward and then moved round to get an angle more in front of him. Having found the right position in the horizontal plane, I then realised the next problem was that I was looking down on him slightly – which was making the diagonals of the phone booths converge to taper in at the bottom.
Bending my knees slightly was enough to lower my position so that I could get all the verticals parallel. Getting things parallel is really important, as it simply makes a shot look as though you took care over taking it – and it lends a professional feel. Converging verticals and wonky horizontals just look sloppy. Keeping this in mind will make a massive difference to your pictures – and not just those showing tall buildings!
For the final shot I moved in to frame things a little tighter and then waited for the subject to put on the right expression and lift his head a little. I was lucky that he brought his head up so his eyeline view was almost completely horizontal too – and then I knew I had the shot I wanted.
Shot with a Canon EOS 1Ds, with EF28-135mm f/3.5-5.6 IS – exposure 1/320sec at f/8. ISO 100
If you find you have shot a picture that has slightly converging verticals or a wonky horizon you can correct the problems reasonably easily in a software application such as Photoshop, Photoshop Elements or GIMP (free download).


To see more of my pictures
visit my photo galleries site
at www.damiendemolder.com