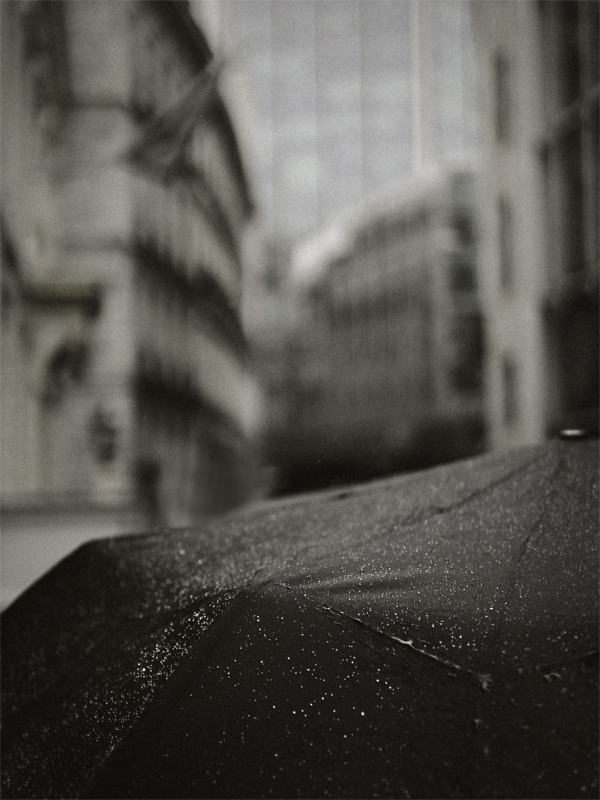 Taking pictures in the rain – let the details tell the story
You would think there was a law against taking pictures on a rainy day, as hardly any photographers ever do. They look out the window, see the drips and drops falling from the heavens, and decide automatically that it is a day for doing something else. But one of the things they are missing out on is a chance of getting unique images – with all the other photographers indoors anything you shoot on a rainy day is going to be an exclusive!
And rain happens – it is part of the experience of life, so we should be photographing it. This shot was taken on a rainy morning in London when the commuters were rushing to work, heads down and brollies up. If you are at all nervous of taking pictures of people in the street a rainy day is great, as no one is going to bother stopping to ask what you are doing.
As I walked along behind this person I enjoyed how the water was forming into big droplets on the umbrella material, and how those droplets were sparkling in the light, and I wanted to make a picture to show that. Obviously the person under the brolly was moving pretty quickly, so I set myself an ISO of 1600 and an aperture of f/2 so I could get a motion-stopping shutter speed – in this case 1/2500sec. Then I set my AF point to the lower third of the screen and followed the brolly trying to walk in time with the person under it. When we walk we naturally bob up and down, so getting in rhythm with the subject is important if we are going to avoid motion blur. I knew I was pretty safe though, with that very fast shutter speed, but the timing was important so I could get the focus point exactly where I wanted it on the moving subject.
I was happy to shoot at f/2 because I knew I didn't have to get the buildings in the background in focus for people to know what they are. You mightn't recognise Old Broad Street, but it is enough to see that this is a city scene and you get the sense of the old buildings and the new glass tower block in the distance. Also the narrow depth of field would make the droplets the only part of the picture in focus, so you would know that they are the subjects and what I want you to look at.
It was a pretty grey day in a pretty grey place, so rather than turning the picture black and white I just de-saturated it a bit and then overlaid an orange tone to give it a warmer feel.
It might sound odd to describe to someone else that this is a picture of an umbrella, and it wouldn't sound very exciting, but it is a picture about the atmosphere of the place at that time. Often it is the small details that can describe an atmosphere more fully than a wider shot of the whole street, as details are filled with clues and you force the viewer to look at them.
I hope you like the shot, and that it has encouraged you to go out with your camera next time it rains. Please do leave me a comment below. I run regular street photography classes around London, both during the day and at night, so why not join me and a very small group of other photographers for some instruction and inspiration – and a lot of fun?
I can help to improve your photography whatever your level of experience. Find out more in the Events and Courses section.
My next street day is on 18 February 
See me on Facebook at www.facebook.com/demolder
Follow me on Twitter at @damiendemolder