Low angles – using puddle reflections – keeping a clear message – dynamic composition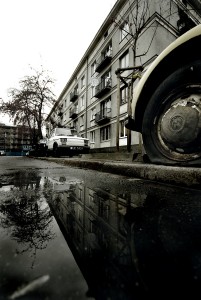 Most photographers would agree that reflections are the number one tool for those looking to add a little something to their pictures. It seems everyone is fascinated by them, and quite rightly too, as they provide us not only with an upside down mirror-image view of the world, their lack of clear resolution can deliver a quick and easy impressionist element to our pictures.
The obvious places to find reflections are in lakes and rivers, as well as in the window-fronted skyscrapers of the city – where we like to contrast the modern with an old church spire. We sometimes use the reflections of shop windows to show what is in and out at the same time, which is all very clever.
What we don't do so often, mostly because we are all slightly afraid of the rain, is use the reflections in puddles to enhance our street photography. Cities and towns are filled with hopeless drainage systems and dips and holes in the pavements. These are brilliant places to find the answer to catching a completely different view of a scene that has been shot a million times, or to producing a more dynamic view of a scene that might otherwise be not so remarkable.
In this shot I wanted to capture a sense of what this slightly rundown area of Warsaw was like. I had tried quite a few different angles and compositions which all showed the street and the flats in a matter of fact sort of way that, while doing the job of communicating the content of the area, looked a little bit uninteresting. Being a rather damp place in December Poland had got me hooked on puddles, and seeing this rather exciting one, positioned perfectly next to the flat tyre of a Volkswagen Beetle, I knew my prayers had been answered.
Taking a low angle automatically creates a picture that looks different, and with the angle I was able to create a really strong horizontal convergence using the lines of the building. This makings it streak through the picture from right to left, drawing the eye right into the depths of the scene, until the eye crashes into the buildings at the end of the road. You can them come back to see the flat tyre, the eastern European car, the bare trees, the knackered kerbstones, the rusting wheel arch and all the things that I wanted to show that build a picture of the atmosphere of the place. Of course, here the puddle itself adds to the sense of dereliction, as it suggests the road is poor too – which it was.
To get such a dramatic view I used a really wide angle lens – a 10-20mm zoom at the widest setting. I didn't want the dominant effect to be that of a wide angle, and the exaggerated sense of perspective that they can introduce, so I was careful to hold the camera as straight and level as I could. There is some 'leaning', but not much, and certainly not enough to draw attention. In cases like this, where the subject matter is strong in its own right, it is important to avoid photographic 'effects' that create a talking point in themselves. I didn't want people to see the picture and say 'Wow, what a wide angle'; I wanted people to notice the place and the clues that help to get a feel for what that area is like. Sometimes the power of lens effects can draw attention away from what you are trying to show, and to communicate what it is you have to say you have to be aware of that. Use photography to convey your message, not to detract from it.
The picture has a black and white look to it which I have been careful not to undo by adding saturation. I have altered the mid-tone contrast a little, by creating a kink in the central section of the Levels curve, but other than that the shot is just as the scene was.
Unless you have Live View with a flip-out screen, shooting from a low angle like this is either a guessing game or one where you lay on your face in the street. I try to wedge the camera onto the toe of my boot, as I show in this other post about low angles.
Pentax K10D, Sigma 10-20mm f/4-5.6 EX DC HSM lens 1/30sec @ f/5 and ISO 400.
Interesting? Rubbish? Let me know what you think, by leaving a comment. 

To see more of my pictures
visit my photo galleries site
at www.damiendemolder.com