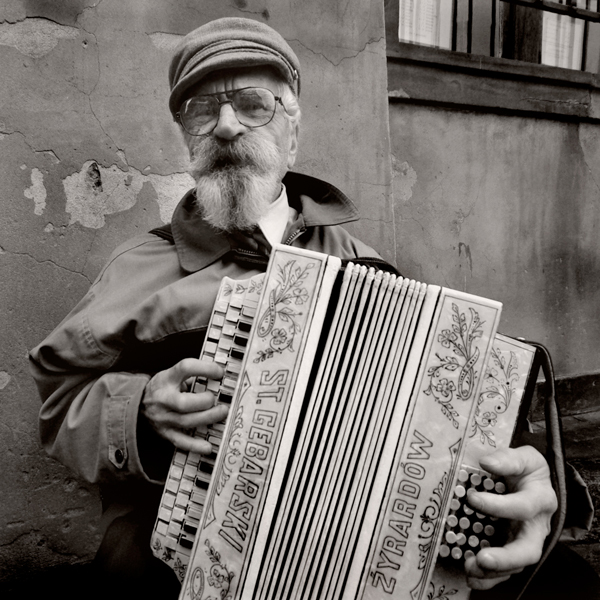 The idea of street documentary is to show the viewer what it is like to be in the place you are shooting – and to experience the things you are experiencing. To do this I try to shoot with a perspective that delivers to the viewer a feeling of being in the place rather than simply observing it from afar.
The simplest way to begin this process is to use a lens that captures an angle similar to that which the human eyes can see. Although a 50mm lens is seen as 'standard' for the 135 film format and full frame sensors this is still slightly long for a realistic view. On these formats I try to use a focal length of between 30-40mm, which is the same as between 20-30mm for cameras with an APS-C type sensor, and between 15-20mm for FourThirds users.
When you use a lens like this for the type of portrait shown here you have to forget your inhibitions and move in close. This chap was more than happy for me to take his picture, but I still asked by showing the camera and expressing my intentions. This is done in a split second through facial expressions, but makes the difference between guarrenteed co-operation and comfort, and not quite knowing how the subject will react once you start shooting. Having permission also improves your chance of getting good eye contact.
The accordion player was sitting down so I crouched to get on the same level as his chest, and so I could make a major feature of the instrument. It looked almost as old as him, with just as many lines, contours and interesting features.
The day was very overcast, so I didn't have any trouble with contrasty light and shadows blocking up his eyes or shading his face beneath his hat. It also meant that exposure was easy, and I could leave the camera's evaluative/matrix system to do the work for me.
I shot in colour as usual, but knew this one would end up in black and white. The conversion was made using the green channel – a favourite with me for getting an aged classic look.
I cropped square as well to keep the composition tight, and because the format seems to suit the shot well.
The final image has good depth and possesses a three dimensional effect that I would not have achieved had I stood back and shot with a long lens. While long lenses allow you to keep a distance, they always show that you were a long way from the subject – which makes it difficult for the viewer to connect with the subject. Actually getting close yourself makes a massive difference, and can be the difference between getting an ordinary shot and one that has some impact.
Shot with Pentax K20D, with Sigma 10-20mm f/4-5.6.

To see more of my pictures
visit my photo galleries site
at www.damiendemolder.com