Seeing relationships • using humour • the importance of straight edges • catching a moment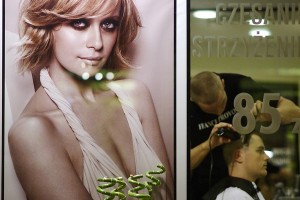 There is nothing new in street photography about targeting how the world of advertising compares with reality, but it remains a rich stream of original-looking and visually exciting images. It is not just the contrast of the advertiser's dream world with that of the everyday existence of those these adverts are intended to influence, but this type of picture often has some significance as a document of social trends, wants and aspirations of the time.
Adverts and posters have a very short shelf life and can often really tie a picture down to a specific period in our history.
I spotted this scene in Warsaw, Poland, through the window of a hairstylist shop in the city's smartest shopping street, Nowy Swiat. I couldn't tell for sure what the young lad was thinking, or what his motivation was for having a haircut, but obviously he was shelling out a bit of extra cash for this upmarket treatment and I'd say he was expecting to get more than just shorter hair. The ad in the window says it all really – get your hair cut here and you'll score with a hot chick like this.

I love the way it appears as though the stylist is giving the lad a haircut just like his own, and that the haircuts are so extreme. A skinhead is a proper teen statement, a sign of rebellion – as though shaving your head demonstrates that you have taken full control of your own destiny. Shaving your head is the first step to becoming a man, and attracting a beautiful woman with that strong sense of your own identity. Of course, we can all see that there is no strong identity at all, only a passage of conforming to a series of stereotypes that starts with the beautiful girl aspiration, as though that is what we all want, and ends with the idea that a hairstyle can define a personality.
Bizarrely, there is a certain amount of sexual suggestiveness in the curly bamboo canes as well. The way in which they twist around the girl's nipples somehow demonstrates what the lad will want to be doing once his hair-do is completed. The look in her eyes suggests that we could all get a slice of the action – so long as we get that all important haircut.
When I took the picture I couldn't possibly have identified all of these elements, but in a glance I could see there was something quite funny going on. It's the same with composition – you don't have to sit and analyse the leading lines to know you are seeing something powerful. On these occasions we need to go with our instincts and analyse later – shoot first, ask questions after.
I know I go on about keeping the camera straight and upright, and not allowing sloping lines or drunk horizons, but in this picture the viewer is allowed on concentrate on the subject because there is nothing to distract the attention away from it. The picture elements are in their own neat boxes and the lines are all parallel. Had that central poster edge been slanted I'm certain the picture would have lost some of its impact.
Although I usually keep my white balance settings to 'daylight', whatever the conditions, on this occasion the tungsten balance proved to be a better choice. Again, this is because by neutralising the colours they become less of a distraction, so we can concentrate on the people and their relationships. In fact, I shot the picture in raw and converted it using the tungsten setting, but if you are a jpeg shooter you'd need to be thinking about white balance at the time of the shoot.
Pentax K10D, 135mm manual focus f/3.5 lens, ISO 1600 and f/5.6 @ 1/125sec.
Interesting or useful?
Leave a comment to let me know what you think of this post.
Got any requests for subjects or techniques to be covered? Let me know. Click here to email me.

To see more of my pictures
visit my photo galleries site
at www.damiendemolder.com