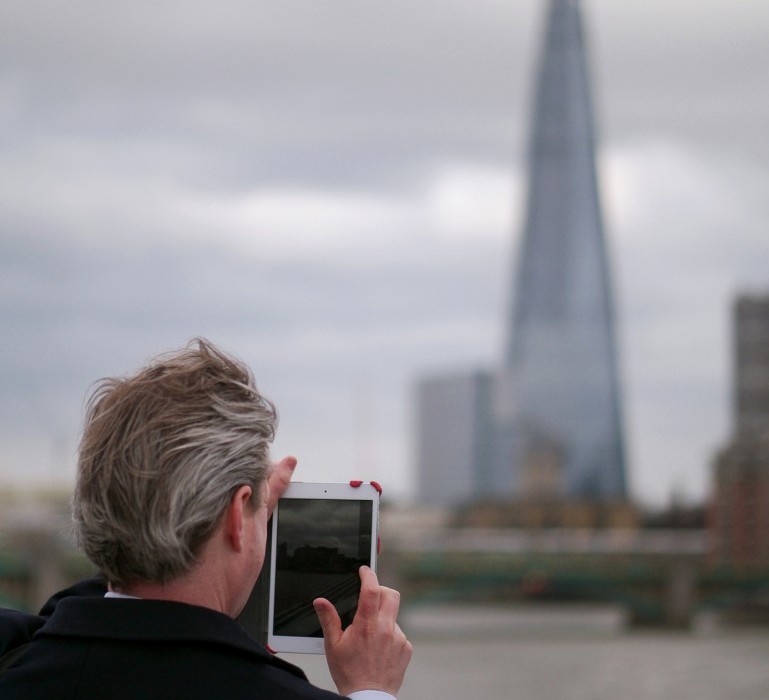 Decisive moments: timing in street photography
We have all heard of the 'decisive moment', and we know it relates to the split second in that which the multitude of disparate elements within our view come together to form a single harmonised image in which all those individual entities suddenly somehow relate to each other.
When many of us think about this concept we visualise the world moving and the photographer passively standing by waiting to catch what happens next. To some extent this is true, but the part of the successful photographer is of the active fortune teller who analyses the lines on the palm of the situation to guess what MIGHT come to pass in the seconds and minutes that follow. When we spend the time to see and to predict we can try to ensure we are in the right place with the right settings on our camera, and prepared to capture that future in a way that communicates the essence of the moment.
I liked this man's hair and the way the light and dark streaks emphasised his style and shape in the pale overcast evening light, and I hovered around behind him waiting to get a shot. I wanted him taking a picture down the river, with The Shard softly setting the scene in the background, but I needed to wait for those elements to come together in a single cohesive moment.
He decided to create a sweep panorama with his iPad Mini, and I could see he was going to swing from left to right as he captured the view, so I quickly composed my own view so that I would be ready for the moment his iPad was in the right place. As I have a building in the shot we need to activate our mental architecture mode, making it essential to keep the camera upright and straight so the viewer doesn't have to face the distractions of London falling over. Guessing where the iPad would be I set my AF point for that spot using the Touch AF feature of the camera I was using. This allows the photographer to position the focus anywhere in the scene by touching that place on the rear screen. I set a wide aperture of f/1.2 to create a tiny depth of field that would blur the background behind the iPad and even the man's hair in front of it.
And as he swung the iPad in to position I was ready and just had to trigger the shutter at precisely that moment.
Panasonic Lumix DMC-GH3 with Leica DG Noctilux 42.5mm f/1.2
If you would like to learn how to take pictures like this, and become a confident and creative street photographer, sign up for one of my one-day street photography classes.